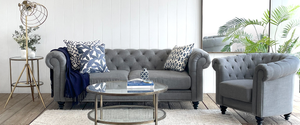 Use our new 3D SuperZoom function to view your favourite products
How to Use Augmented Reality
Scan QR Code
Click the AR icon on our product pages and a QR code will popup for you to scan
Place in Your Room
Use your mobile device to place the item into your room to visualize and design
Snap Your Space
Find the perfect piece with confidence and create the space you'll love
Augmented Reality
3D Super Zoom
Rotate 360 degrees to view all of the angles. Zoom in and out on on the product to see all the finer details.
Use AR Button
View in Your Own Home
Creating a space you'll love has never been easier. Design, style and visualise. Find your perfect piece with confidence.
Shaynna Blaze Exclusive Range
Shaynna & Augmented Reality
The new Shaynna Blaze + OneWorld Collection exclusive range is available to View In Home & Superzoom. Bring your home to life!
Explore